Guest Post by Peter Pawinski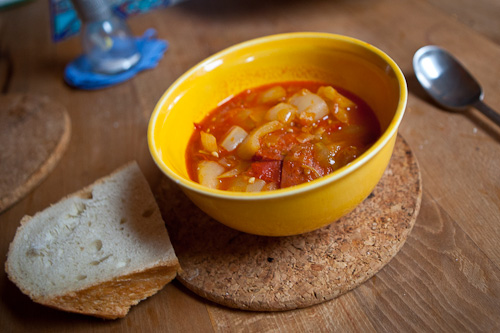 Lecsó (also, letscho, letcho, or lecho, depending on the transliteration) is a dish sometimes called "Hungarian ratatouille," consisting of a stewed mix of peppers, tomatoes, and onions. Often, it is fried in lard and/or smoked bacon fat, although vegetarian sunflower oil variations exist. It may be eaten on its own or as a side, at any time of day. For breakfast, it might be topped with a fried egg or two or scrambled along with them. For lunch or dinner, it is usually eaten on its own with bread, or supplemented with a sausage, rice, meat, noodles, etc. During the winter, canned and preserved lecsó can be used in Hungarian stews to substitute for out-of-season peppers and tomatoes.
What follows is a rich version of lecsó, a Hungarian recipe using both lard and smoked bacon fat. You do not need much of a recipe for lecsó. Rather, the important thing is to know the proportion, which should be roughly 2:1:1 by weight of peppers:tomatoes:onions.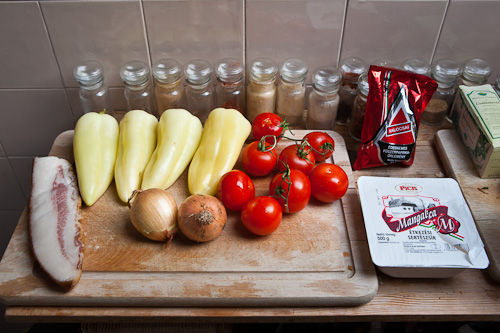 Ingredients
From the left: smoked Mangalica bacon, sweet Hungarian peppers, onions, tomatoes, Hungarian paprika from Kalocsa, and Mangalica lard. Mangalica is a local breed (or several breeds) of curly-haired pig raised mostly for its fat and well-marbled meat. If you complain that commercial pork is too lean these days (and it is), this is your breed. It has made inroads into the American and other foreign markets the last few years, usually under the spelling Mangalitsa. Incidentally, from my observation, it also seems to have surged in popularity  in Budapest, as well, with Mangalica being much more heavily promoted and available than it was in the late 90s/early 00s.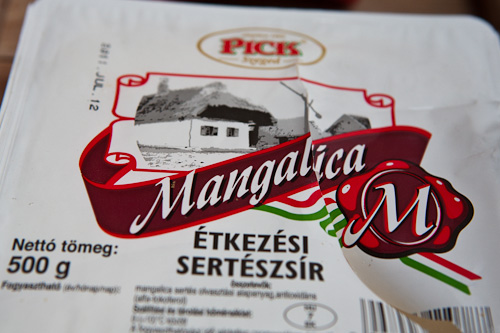 Instructions
Chop the onions into dice or half slices, and fry with the lard and bacon fat (or use sunflower oil if you're vegetarian). I used about 1/8 of the bacon pictured above, and about two teaspoons of lard. I let the bacon and lard cook first, to render the fat from the lard, and then added the onions.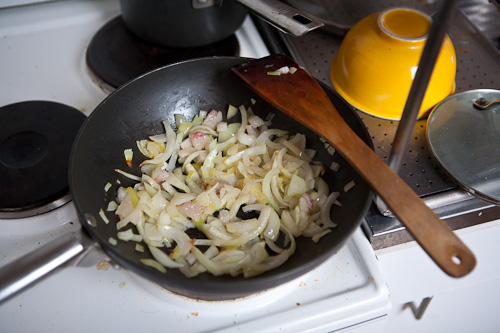 After the onions soften into translucency, I add a teaspoon of paprika (sweet, hot, or a mix can be used. I used sweet here). The amount is flexible, but I added one teaspoon for what was about a half pound or so of onions. Take the pan off the heat while you do this, so as not to burn the paprika: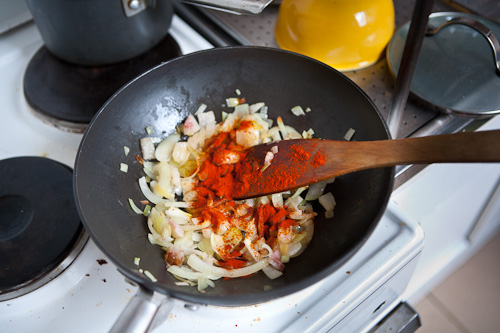 Integrate the paprika with the fat and onions, and let cook for about a minute off the heat. Afterwards, add your peppers and tomatoes. For best results, you should use a mix of peppers, in terms of color and heat level, but in my case I just used standard Hungarian sweet peppers. These are peppers that are similar to sweet versions of Hungarian wax, banana peppers, or Italian frying peppers in the States, but with rather meaty flesh — about as fleshy as a standard bell pepper, but with a milder flavor. If forced to use bells, I think yellow bells or a combination of yellow and red would work the best. Cut the peppers in strips or one-inch half rings (as I did).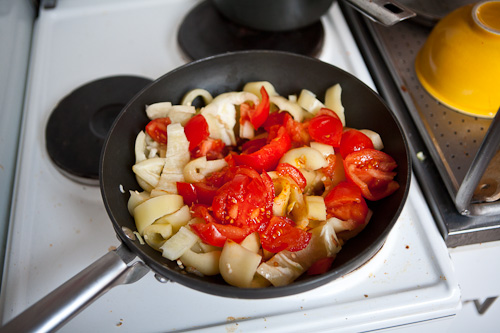 I used about half the tomatoes pictured in the ingredients photo. The tomatoes should be, ideally, peeled and chopped or sliced, but I'm a bit lazy and skipped the peeling step.
Add a teaspoon of salt, give the ingredients a good stir, add cover. Let this simmer over medium-low to medium heat until the peppers become soft (around 45 minutes or so). About halfway through the cooking time, I added some slices of lecsókolbász, a type of sausage specifically made for this dish: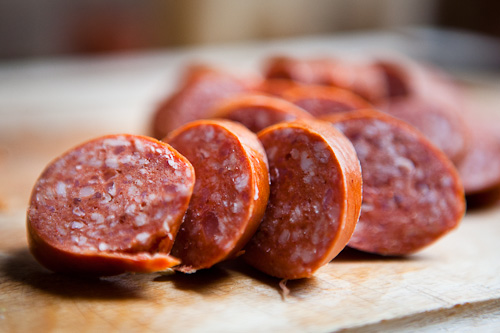 It's actually quite a tame and "cheap" sausage by Hungarian standards (in my opinion), in ways more bologna-like than sausage-like in its texture and taste. I would say it has a similar level of smokiness and consistency to mass-market Polish sausages like Hillshire Farms. I've read Hungarian recipes that have said to leave the lecsókolbász to the dogs, and use a Debrecener or Gyulai sausage in its place. I'm actually fond of it in this application, so in it goes, to stew along with the lecsó: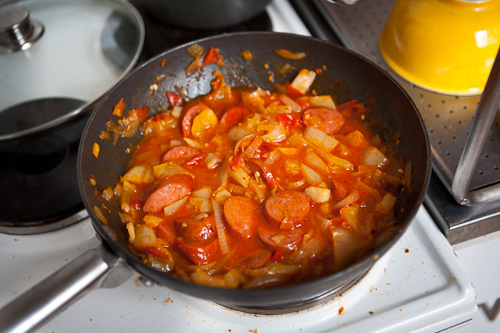 For the last ten minutes or so of cooking time, I remove the lid and let it reduce a little bit. Serve with crusty white bread:
A note on the author: Pete Pawinski was one of the first people I met in Budapest back in 2001. He has proven himself a master of many cuisines, including Polish, Mexican, Soul Food, and, of course, Hungarian. Currently, he lives in Chicago and works as a photographer. You can find his site here: http://www.peterpawinski.com